Always With You (Baxter Boys, Book 1)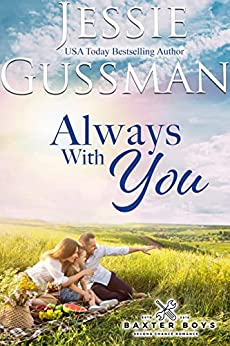 previously titled: What He Wants
written by Jessie Gussman
Romance: Second Chance at Love
Themes: forgiveness & sacrificial love
One night changed everything… Cassidy Kimbell killed a man when she was only nineteen. Torque Baxter took the blame, serving ten years for her crime.
Characters: Cassidy Kimbell, Torque Baxter, three sweet children, plus an assortment of siblings and friends.
This book has a daring plot and tough themes, yet manages to maintain an uplifting and heart-warming tone. There are light moments and laughter. There are tense moments and angst. There are moments that reduced me to ugly crying. All of those things make this one of my favorite romance books ever.
The writing is all but invisible. As a reader, I fell into this story and no jarring typos or formatting problems pulled me out. I cannot recommend this book highly enough, which is why I rated it Five out of five stars.